Adapting Teaching Practices For The Classroom Of Tomorrow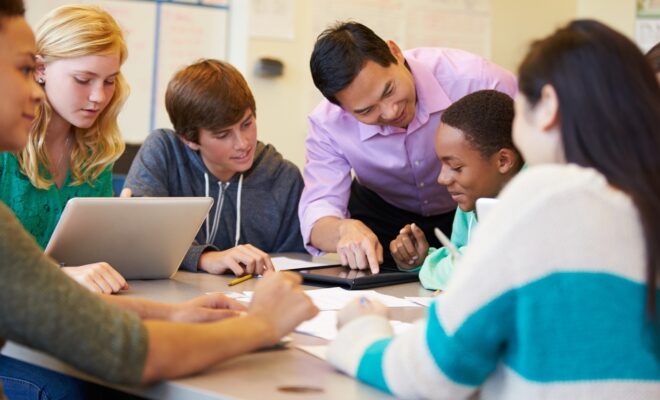 In today's digital world, digital transformation is essential rather than optional. It's crucial to accept and adopt this change to remain relevant and competitive. To prepare future ready students for what lies ahead, teaching methods must evolve to meet the needs of the future classroom. It is essential to support students in growing their self-confidence so that they can face the challenges and opportunities that lie ahead. For them to flourish in the future, they must now take that critical step. By embracing digital transformation, educators may create a dynamic learning environment that encourages collaboration, creativity, and critical thinking.
Personalizing learning experiences is one of the major benefits of digital transformation. Each has particular advantages, disadvantages, and learning styles. With the use of digital tools and platforms, educators may adapt their lessons to the requirements of particular students as part of a 360 degree solution for school. Software that adapts to learning may evaluate student performance data and offer specialized information and exercises to strengthen weak areas. This individualized approach increases student engagement and encourages a more thorough comprehension of the material.
Access to numerous resources and information has also increased through digital transformation. Beyond the limitations of conventional textbooks, the Internet enables students to explore and learn. Multimedia material is available through online databases, educational websites, and digital libraries in the form of movies, essays, and interactive simulations. By bringing complicated ideas to life, these materials improve learning by making them more interactive, interesting, and applicable. Teachers from the ICSE, CBSE, and state boards should choose and disperse these educational materials, empowering students to take ownership of their education and pursue their hobbies.
The digital revolution has had a significant positive impact on collaboration and communication. To succeed in a globally interconnected society, students in tomorrow's classrooms must have excellent cooperation and communication skills. Student feedback is available in real-time, and sharing ideas and collaborating on projects is possible using digital tools and platforms. Students can engage in constructive discussions and problem-solving exercises by utilizing online discussion forums, video conferencing, and group document editing tools. This cooperative learning approach aids students in preparing for the future workforce by encouraging empathy, understanding, and cultural competency.
The digital revolution also opens up new doors for creativity and innovation. Thanks to the tools that technology offers, students can express their ideas through various media, including movies, digital presentations, and multimedia projects. This motivates students to apply critical thinking techniques, solve difficult problems, and communicate their findings appealingly. Students can explore their hobbies, let their imaginations run wild, and learn crucial 21st-century skills highly valued in today's society through digital creativity.
As educators adapt their teaching practices for the classroom of tomorrow, it is crucial to provide students with opportunities to develop digital literacy skills. Digital literacy goes beyond technical proficiency and encompasses the ability to find, evaluate, and ethically use information in a digital environment. Educators should guide students in becoming discerning consumers and creators of digital content. They must teach students how to conduct effective online research, critically evaluate information, and responsibly navigate the digital world. By fostering digital literacy skills, educators empower students to be lifelong learners who can thrive in the ever-changing digital landscape.
However, it is important to maintain a balanced approach that integrates technology with traditional teaching methods for teacher empowerment. While digital tools offer numerous advantages, they should not replace essential aspects of education, such as human interaction, physical activities, and hands-on experiences. Teachers should leverage technology to enhance, rather than replace, these traditional practices. For instance, a science lesson can incorporate virtual simulations to introduce concepts, followed by hands-on experiments in the classroom to reinforce understanding. This balanced approach ensures that students develop digital skills and a well-rounded set of competencies.
To sum it up, embracing digital transformation is essential for adapting teaching practices to meet the needs of the classroom of tomorrow. With the help of digital transformation, educators can create a dynamic learning environment that equips students with the skills and mindset necessary for success in the digital age.